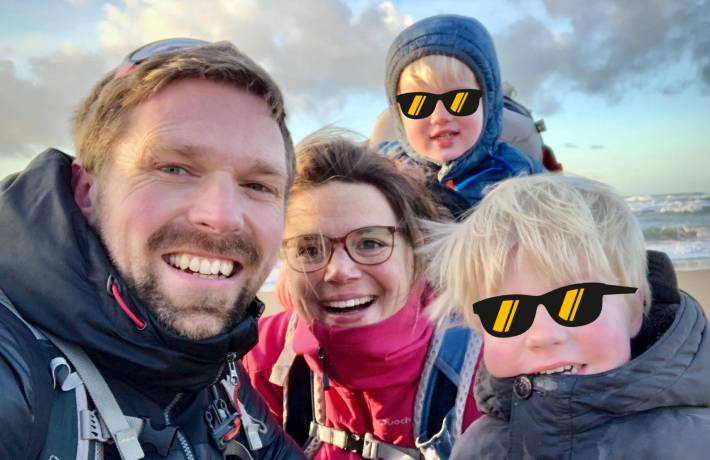 About us
Meet Wouter and Esther, the founders of Breakout Bandits. They love adventures! Back in the days they traveled the world, hitchhiked through Europe, slept under the clear skies and just loved being outside.
Two mini-bandits later they decided to start a new adventure: a full service event agency called Breakout Bandits!
Wouter is the creative director and responsible for all event concepts. Esther brings in the personal touch as head of customer relations. They have a flexible team of experts who can help them organize the biggest surprises and events.
Read more about Wouter and Esther's adventures running Breakout Bandits in their blog.
We developed different kind of event concepts. See which one suits you best.
Think out-of-the-(gift)box. Surprise your friends, family or colleagues with an unexpected adventure. It will be an experience they will never forget.
Play a custom-made teambuilding game with your team full of personal questions about your team, surprising twists and hilarious discoveries about your teammates.
There is beauty everywhere. Go out on an adventure and find beauty in places you would never expect to find it.
Our passion for surprises
We like to add a surprise-element to all of the events we organize. Sometimes the whole event is one big surprise, like our surprise roadtrips. In that case it's not just one surprise, it's a series of surprises that turn into an epic adventure. Sometimes it's just a little unexpected twist in one of our team building activities. Either way, prepare for the unexpected!
We love to make it personal
We believe the best events are personal and make an impact on the people who attend the event. We don't want them to look back at " just a nice event", but really be touched by something that happened to them during the event. That's why the majority of our events are aimed at individuals or small groups. We love to immerse ourselves in someone's life and make a truly unique experience for that person or group. 
Follow us
Read all about our unexpected adventures running Breakout Bandits in our blog or follow us on your favorite social media.
100% satisfaction guarantee
We are sure you will love our events. That's why we offer a 100% satisfaction guarantee. It means that if you are not 100% satisfied we will send you a refund.
Friendly cancelation conditions
Unwanted unexpected things can happen in life. That's why we offer friendly cancelation conditions in case you are forced to cancel the event.
We value your privacy
As a specialist in organizing surprises we know the importance of privacy. Read our privacy policy to know how we deal with your personal data.
We officially excist
Yes, we're real. We are registered with the Dutch Chamber of Commerce under the trade name Breakout Bandits with Chamber of Commerce number 84049863 and VAT number NL003912996B26. Our registered address is Leeweg 32, Berkel en Rodenrijs in the Netherlands.
Contact us
Please give us a call if you would like to know more about us or if you have any questions about our events. We're happy to take the time to answer all your questions.